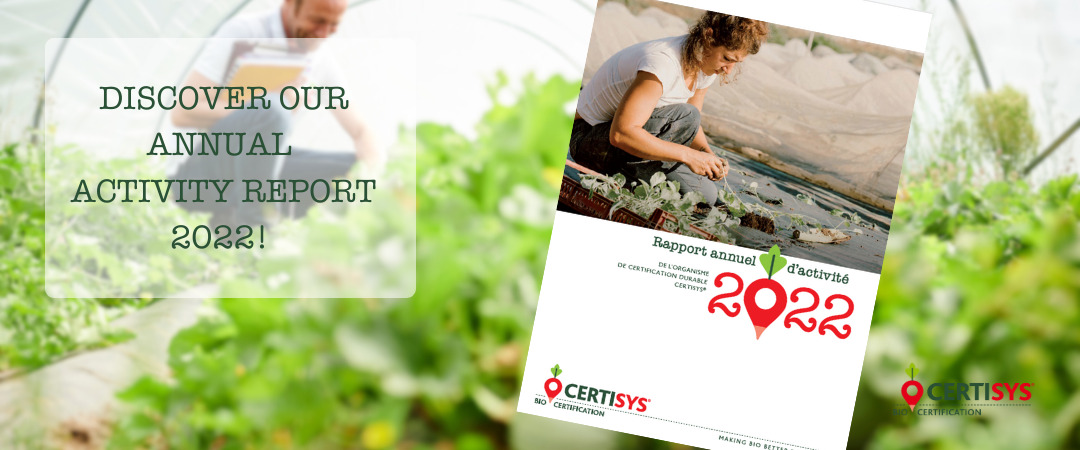 Discover our annual activity report 2022!
We are pleased to present you our new annual activity report! You will find a transparent overview of our activities in 2022 in it.  
2022, accelerating our positive impact on the environment
"If there is a project, we are convinced that it must be sustainable"
This sentence symbolises our vision and ambition to accelerate our positive impact on the environment and society.
At a time when ecological and societal challenges are becoming ever greater, it seemed essential to us to extend our field of action by offering sustainable certifications, in addition to organic certification, in which we have been experts and pioneers for more than 30 years.
2022, towards an expansion of our services

Cosmos, Ecodétergent, Codiplan, Vegaplan, Rainforest Alliance, etc. ,are all new specifications that we can offer you to enhance your good social and environmental practices. Our organic auditors have been trained and accredited for these new certifications so that you can continue to benefit from organic expertise.
2022, always closer to you to support you even better
We have been working throughout the year to roll out a new dedicated customer service to help you with your enquiries.
We are always keen to establish ourselves locally, which is why our auditors are spread out over the whole of Belgium and Luxembourg to guarantee you a good knowledge of the specificities of your region.
At the end of 2022 we opened a new office in Merelbeke, near Ghent. You are welcome to discuss your projects with our team in Merelbeke as well as in our office in Bolinne (Eghezée).
The global organic sector, a slower growth rate
According to FIBL figures for the year 2021, the growth trend in the global organic sector continues, but at a much slower pace.
The global market reached, in fact, about €125 billion, an increase of 3%, while organic farmland continued to grow steadily, reaching 76.4 million ha (+1.7% as compared to 2020).
Operators trust CERTISYS®
In 2022 57% of the 6,576 certified organic activities in Belgium, were certified by Certisys.
Despite a slowdown in the growth of the organic market, caused by the unfavourable economic context, we remain firmly convinced that organic and sustainable production models will enable the ecological transition we need.
Key figures for CERTISYS®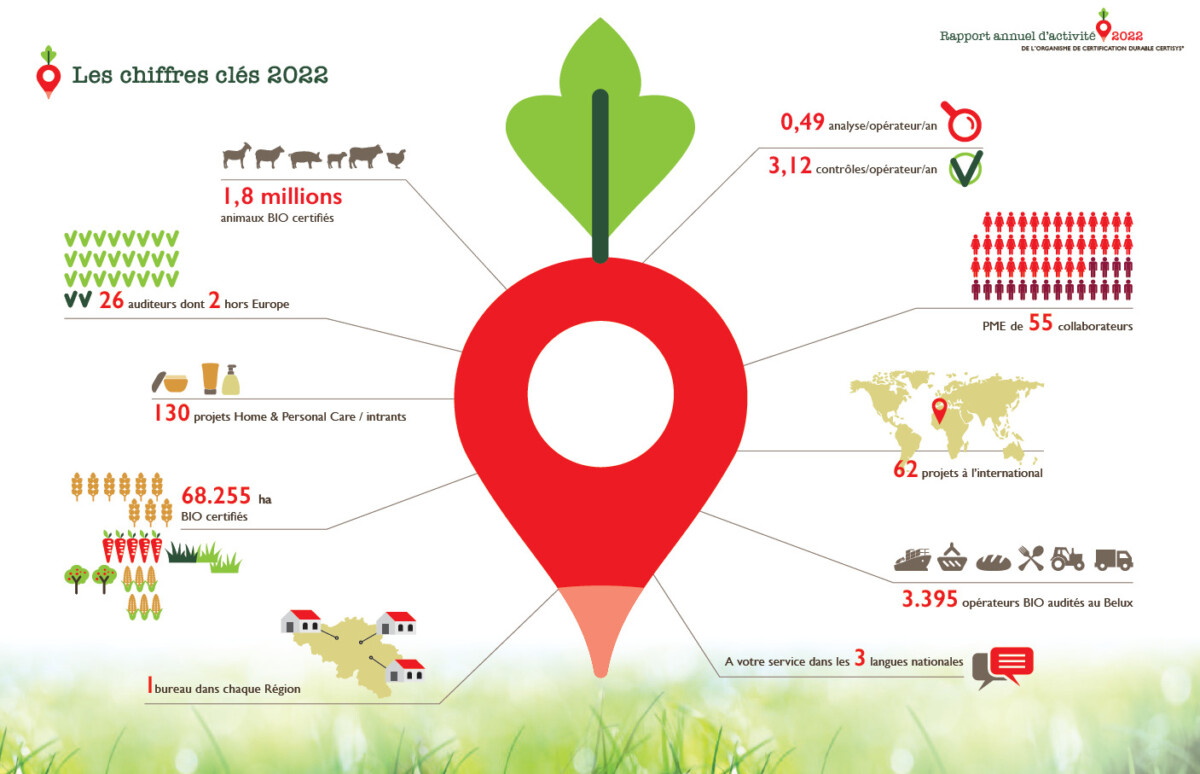 This report reflects above all the work of our entire team, which is 100% committed to organic and sustainable development.
Our daily motivation?
To even better meet your expectations and support you in your sustainable practices.
#makingbiobettertogether