Our vision 
"We believe any project should be sustainable" 
This statement embodies our vision and ambition to accelerate the positive impact that we have on our environment and society.
The world is changing. And the awareness of our impact is growing with it. Today, maintaining biodiversity, climate change, respect for the environment and the fair distribution of resources are major issues for our society. More than ever, we at CERTISYS are convinced of the need to evolve our models.
The challenge is great. But we are certain that everyone has a role to play in addressing it. To take part, we first chose to take the certification route. In seeking to promote sustainable models, we are in line with the principles promoted by organic farming.
We are close to you, listening to your needs and the specificities of your markets. With our global presence, we offer innovative and integrated solutions to help you grow sustainably.
Committed to organic farming since our creation, we only select guarantees that make sense because they have a positive impact on society.
Strong in expertise, inspired, diverse and ambitious. Our commitment to a sustainable world unites us.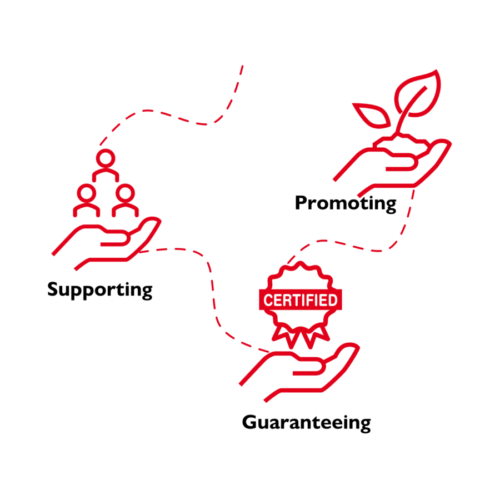 Our mission
Our mission consists of assisting clients in various sectors in their sustainable initiatives and issuing them with certifications that guarantee and promote their good social and environmental practices
We were born 40 years ago from a group of pioneers driven by a passion for the land. Engineers and agronomists who sought to meet the challenge of reliable and credible control and certification of organic farming.
By leveraging this organic expertise, we have now extended our action to other sectors such as natural cosmetics and detergents, fair trade and food safety.
We stand for production that respects living ecosystems, better management of natural resources (water, air, soil fertility) and energy, socially responsible production chains, better product quality and safety. These elements are essential to face the economic, social and environmental challenges of today and to build the world of tomorrow.
Our values
Our work is underpinned by strong values that enable us to maintain relationships of trust between our participating businesses, consumers, stakeholders in the organic sector and public authorities.

Respect for people and their environment

Proximity to the customer and local roots
Collaboration and trust with our partners


Expertise and innovation to serve the customer

Integrity and Transparency