Would you like to have your organic products certified and use the European organic logo?
Would you like to have your organic products certified and use the European organic logo?
These steps specify what any operator should do in order to apply for the use of the "organic" designation in the framework of European regulations as well as the regional decrees relating to organic production.
 Below you will find general information on how to get started in organic farming and  specific information for each sector of activity.  All our useful documents and our prices are available online.
1. Find out more
Get in touch with the CERTISYS team by e-mail at info@certisys.eu or by telephone on 081/600.377 in order to get your "information pack".
The pack includes:
The business activity declaration
The service contract
Our prices
The regulations in force and other legal requirements concerning food safety, etc.
It is compulsory to have a VAT number and to be a member of the FASFC in order to obtain organic certification. You can find out all about the European and regional Regulations concerningorganic agriculture by reading our practical guides.
As a farmer, you can also get information from support organisations such as Biowallonie, the Trade Unions, UNAB, FWA, Unitrab and the test centres.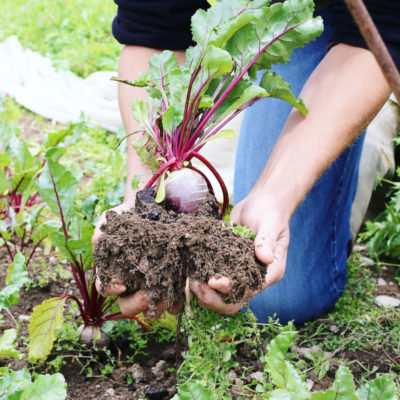 2. Sign up
Do you want to certify your business activity? Send us one service contract and your business activity declaration in PDF format only by e-mail to  operator@certisys.eu  OF by post to Certisys srl, Rue Joseph Bouché 57/3 – 5310 Bolinne.
Our team will check that your data coincides with the information registered at the ECB, tax authorities and FASFC. Once this verification is complete, our team will get in touch to inform you of the next steps in your file.
If you are a farmer, it is also essential to send us the declaration of plots of land and the surface area declaration with the photographic plans if you have declared your plots of land to the Region.
3. Get audited
Once your file has been opened, the CERTISYS auditor in charge of your file will contact you to make an appointment for the approval audit within 30 calendar days.
During this first verification, you will receive information on the different forms and documents to publicise your activity.
The most important points of the Organic Farming Regulations that apply to your business will be reviewed and explained by your auditor.
These (a description of your activities, the nature and origin of input, compliance of your facilities, presence of procedures, etc.) will all be included in an inspection report.
Samples may be taken. The analyses will be carried out by an independent accredited laboratory. An exhaustive audit of the different sites of activity should then take place every year.
The invoices for the auditing service and certification will be issued in accordance with the rates in force, approved by the Authorities. The annual fee shall, as a minimum, be spread over two invoices per year, regardless of the number of visits.
The advance invoice must be settled without delay.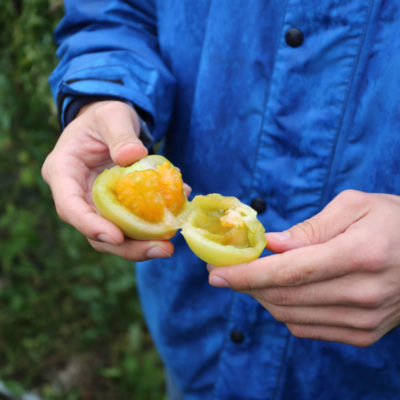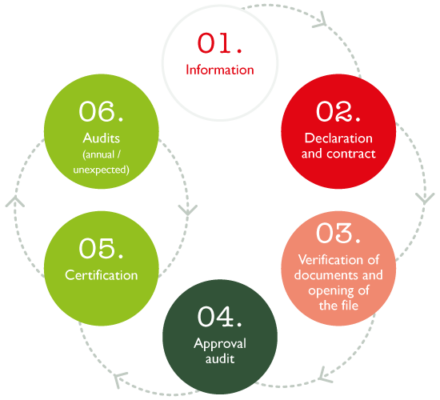 4. Get certified
After the audit, the auditor submits his report to the certification department, which then reaches an independent decision.
If everything is in order, we issue a standardised certificate with the activities and generic names of the categories of the guaranteed organic products.
If there are any non-conformities, the decision to issue a certificate is made according to a grid of non-conformities and a scale of penalties defined by the Authorities. A letter is then sent to you asking you to remedy the non-conformity within a defined period.  As part of a quality system, it is important to establish a positive relationship by taking corrective action when any non-conformity is identified.
Each operator must be audited at least once a year. The same applies to each site linked to a company and declared for an organic activity.
5. Market your products
You may only market products under the "Organic" designation if they fall within the categories mentioned on your certificate.
Are you a farmer? The Regulation allows you to use the term "organic farming" at the end of the conversion period. At the time of your declaration of activity, after the approval audit, you will receive a certificate of engagement for the first year of operation. Your products will not benefit from any organic designation during this period. A conversion certificate will be granted for the second year of operation. It will allow you to sell your products under the label "converting to organic farming". At the end of your conversion period, you will receive an organic certificate allowing you to market products with organic status.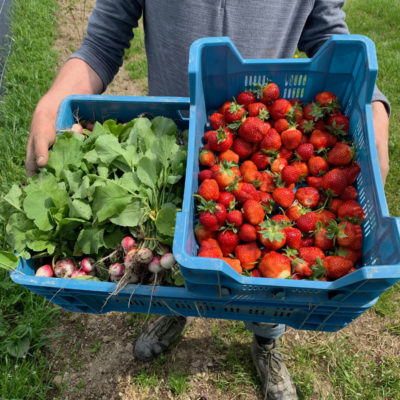 What kind of operator are you?
Define the exact nature of your activity and then check the detailed and specific information that corresponds to you.
Do you import products from countries outside the EU or do you export your products outside the EU?
Do you manufacture cosmetic or cleaning products?
you are a producer, processor or exporter of organic products outside Europe and you want to sell your products in Europe of USA