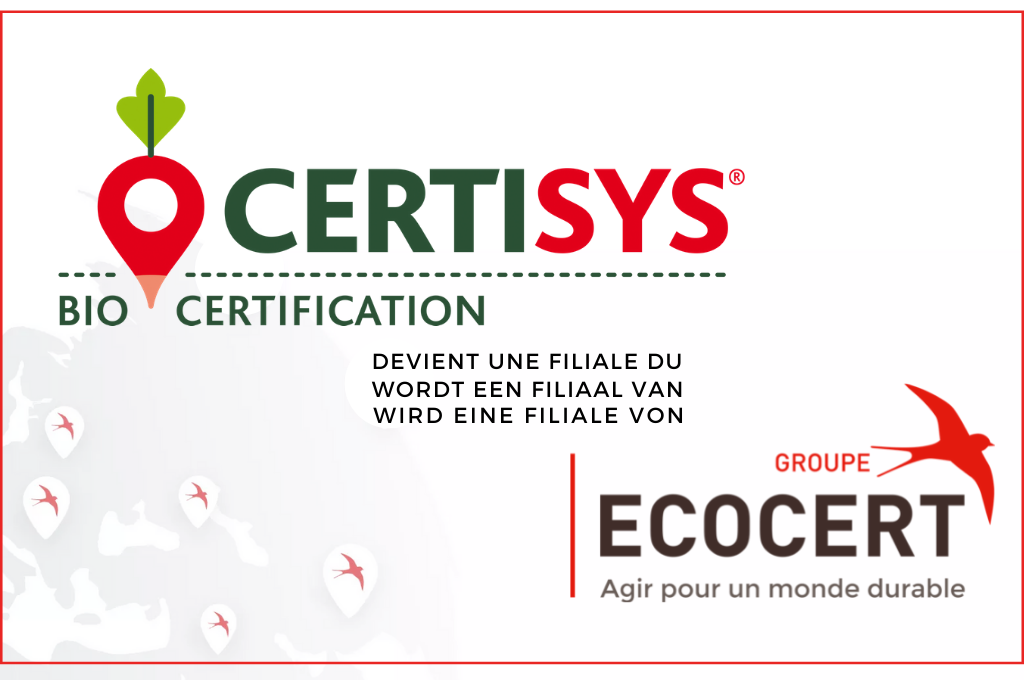 We are proud of our alliance with the ECOCERT Group, which reinforces our expertise in continuing our important work as a certification body!
Ecocert, a global leader
ECOCERT is a French family business that has become a global name in organic certification across several fields, includingagriculture, food processing, cosmetics and textiles. It is also a company that strives for a more sustainable world, by promoting organic farming, sustainable development and respect for workers' rights and our society. ECOCERT is committed to fostering a friendly, close-knit working environment, just like CERTISYS.
Shared history and beliefs
CERTISYS and ECOCERT are both pioneers in organic agriculture in their respective markets, Belgium and France. At the beginning of the 1980s, Blaise Hommelen, the founder of the Belgian organic movement, together with a group of pioneers who were passionate about organic farming and aware of the urgent need for a legal framework to protect agriculture and biodiversity as well as consumers, set about creating what was to become in 1991, the European Organic Regulation. Following his involvement in establishing the ECOCERT Group, Hommelen created his own company, ECOCERT BELGIUM, which became CERTISYS in 2007.
We share the same beliefs and the same vision of organic farming: to ensure the credibility of organic farming and to develop as a sector.
An alliance that makes sense!
So, what could be more logical than for CERTISYS and ECOCERT to join forces to consolidate their position as world leaders in organic and sustainable certification.
By forging this alliance, CERTISYS is expanding its range of services. In addition to our expertise in organic farming, this merger enables us to offer new certifications that have a positive impact on the environment and our society, such as fair trade and Corporate Social Responsibility. This will allow our operators to access new markets.
By integrating CERTISYS into its group, ECOCERT strengthens its position in Europe and gains access to the BENELUX market.
Keeping our local roots, we're here for you
A local approach is vitally important to both ECOCERT and CERTISYS. This means that we will remain your specialist partner, you keep your usual contact person and our staff are here to answer all of your questions.
Our Belgian management team stays the same and Frank Brasseur, who has been Quality Assurance Director for the past 3 years, becomes our new Managing Director. He will report to Thierry Stoedzel, Regional Director Ecocert France AB, UK & Benelux and will be accompanied by Blaise Hommelen, the company's founder, during the transition period.
A shared commitment
We are proud and excited to be transforming our world into one that is ever more respectful of the natural environment. Our shared determination with ECOCERT is to strengthen our expertise in organic certification and sustainable development in order to offer trusted endorsements on the products you produce and consume.
CERTISYS & ECOCERT, MAKING ORGANIC BETTER TOGETHER!
Discover our new visual identity and deep dive into our DNA!